Potted Plants – Available all Year
Balled & Bur-lapped (B&B) Norway Spruce and Blue Spruce Trees are available from 3 – 6 foot tall, ready for planting.  Call Don with any questions or email us donstreefarm@yahoo.com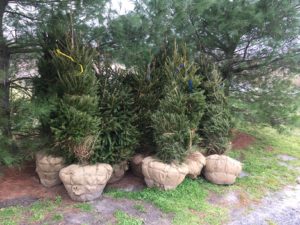 Potted Evergreen Trees
We offer potted trees in three sizes, 1 gallon, 2 gallon, and 3 gallon pots. 
Leyland Cypress – Fast growing trees used for property lines and privacy hedges
Green Giant – Grows 20-40 feet tall and 12-20 feet wide.  Grows 3-5 feet each year
Emerald Green Arborvitae – Fast growing to be tall and slender.  Rich green color
Elegantissima Trees – Beautiful medium speed growth property border, hedge row, and wind break
Nellie Stevens Hollies – Will pollinate off of any male within a two mile radius and will grow tall like a tree, with up to 2 feet of growth per year.
China Girl & China Boy Hollies – Must purchase in pairs for pollination.  Bushy hedge row type of holly
White Pine – Fastest growing Christmas tree
Norway Spruce – Fastest growing from the Spruce family
Blue Spruce – Popular Evergreen that grows slowly

All potted plants are available all year for sale.  Large orders of 20 or more trees can be delivered.  Please call before coming to the farm to make sure we are available.