**

Please note that we only accept cash
Christmas Season Hours, Black Friday through December 24th:
New Hours for 2018
Thursday:  3PM – 8PM (Pre-cut Trees Only, Fields are closed)
Friday, Saturday & Sunday:  10AM – 5PM
Closed Monday – Wednesday (Call to make an appointment)
Want to Pick your tree Early?  The Month of October is Tagging Month! 


Call for an appointment Monday through Saturday (Closed Sunday).  Trees must be paid for at the time of Tagging.  This includes our White Pine, Douglas Fir, Norway Spruce & Canaan Fir tree fields.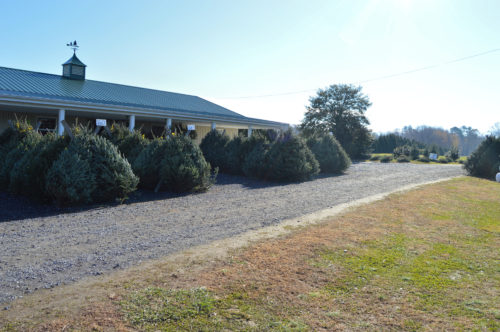 This season, please help us to help others to stay warm this winter. When visiting, please bring a new hat, scarf, gloves or mittens for our Mitten tree. All items will be donated to the Boys and Girls Club and other local charities through the Georgetown Presbyterian Church.
Santa will be here every Saturday in December from 11am-3pm.  Fun for children of all ages is Trains!  Visit each year for new train displays.
Pictures below from prior years showcase Peggy's talent for creating one-of-a-kind arrangements to decorate your home.  If you have an item that you would like Peggy to dress up, do not hesitate to call.  Peggy obtains different containers and other items weekly.  Don't forget to pick up your hand made ornament with the purchase of any tree.
School groups, and any other groups of children tours are available during the week. Learn about growing Christmas trees and Pumpkins during the Christmas season. Visit with Santa & make a craft. Please Call for further information






























We have Balled and Burlap Norway Spruce (B&B) available and in stock!