As we approach our 10 year Anniversary at Don's Tree Farm, our full attention for 2018 and the years to come will be

Christmas Trees

& our

Evergreen Nursery

stock. 
We will no longer have Pumpkins or the Fall Festival Car Show.

 
The shortage of Fraser Fir trees you have read about or heard of on the radio and TV

IS NOT

a problem at Don's Tree Farm. We work all year long to purchase quality, premium Fraser Fir Christmas Trees

available to you from Black Friday through Christmas Eve. We also stock the popular Concolor Fir and Canaan Fir in cut trees which arrive fresh cut weekly to Don's Tree Farm.

Christmas Season Hours, Black Friday through December 24th:
New Hours for 2018
Thursday:  3PM – 8PM (Pre-cut Trees Only, Fields are closed)
Friday, Saturday & Sunday:  10AM – 5PM
Closed Monday – Wednesday (Call to make an appointment)
 Don's Tree Farm is a locally owned and operated 40 acre farm specializing in the growing of multiple varieties of Christmas Trees. Don's Tree Farm is located in Greenwood Delaware, 25 minutes south of Dover, 1 hour from the beaches, and only 45 minutes from the Bay Bridge.
**

Please note that we only accept cash
 10% off the purchase of any tree for our Active Military (please show ID)
 We have some Huge Trees available for You Pick, We Cut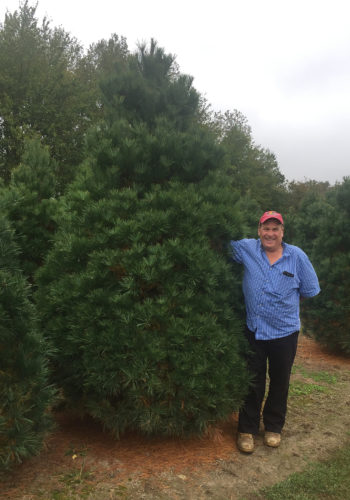 Don was interviewed on picking the perfect Christmas tree.  Click the link below to view the video from WMDT News
Picking the Perfect Christmas Tree
 Christmas Holiday Season
In addition to Christmas Trees, Don's Tree Farm sells hand-made Holiday decorations including, wreaths, door swags, table centerpieces, Hostess and teacher gifts, and cemetery mounds. Don't like what you see or have a specific idea, let us know and we'll make it for you.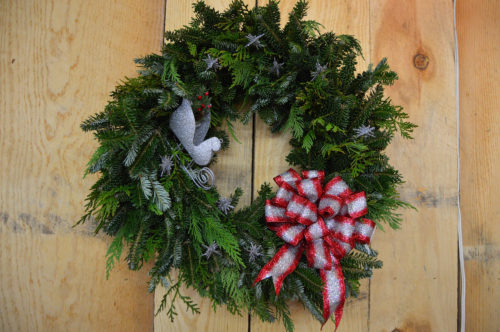 Santa will be here every Saturday in December from 11am-3pm & for Children of all ages – Train Displays!

Please help us to help others to stay warm this winter. When visiting, please bring a new hat, scarf, gloves or mittens for our Mitten tree. All items will be donated to the Boys and Girls Club, local schools and other local charities through the Georgetown Presbyterian Church.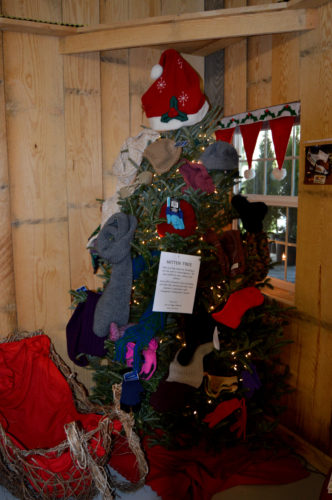 Since Christmas is a family tradition, our family has started the tradition of gifting a free handmade Christmas ornament with the purchase of a tree. Different ornaments each year to collect.
Group Tours
Teachers & group leaders, Don's Tree Farm isn't just a fun experience, it is educational as well!  We will show your group how to grow and care for Christmas trees.  We offer tours in the Christmas seasons, call for more information and to schedule your group field trips Monday through Friday.
Evergreens
B&B (Balled and Bur-lapped)
White Pine
Cannan
Norway Spruce
Blue Spruce
Doug Fir
Concolor
Need a smaller Evergreen tree, see below our list of available potted Evergreen Trees.

We offer potted Evergreens in 1, 2 and 3 gallon pots. 
Leyland Cypress – Fast growing trees used for property lines and privacy hedges
Green Giant – Grows 20-40 feet tall, 12-20 feet wide and grows 3-5 foot per year
Emerald Green Arborvitae – Fast growing to be tall and slender.  Rich green color
Elegantissima Trees – Beautiful medium speed growth property border, hedge row, and wind break
Nellie Stevens Hollies – Will pollinate off of any male within a two mile radius and will grow tall like a tree, with up to 2 feet of growth per year.
China Girl & China Boy Hollies – Must purchase in pairs for pollination.  Bushy hedge row type of holly
White Pine – Fastest growing Christmas tree
Norway Spruce – Fastest growing from the Spruce family
Blue Spruce – Popular Evergreen that grows slowly
All potted plants are available for sale year long.  Large orders of 20 or more trees can be delivered.  Please call before coming to the farm to make sure we are available.
 Photographers – Interested in doing a shoot at the farm, please call Don 302-349-0555.
2 Hour sessions are $150